About Opus XVI
Musical Director: James Dixon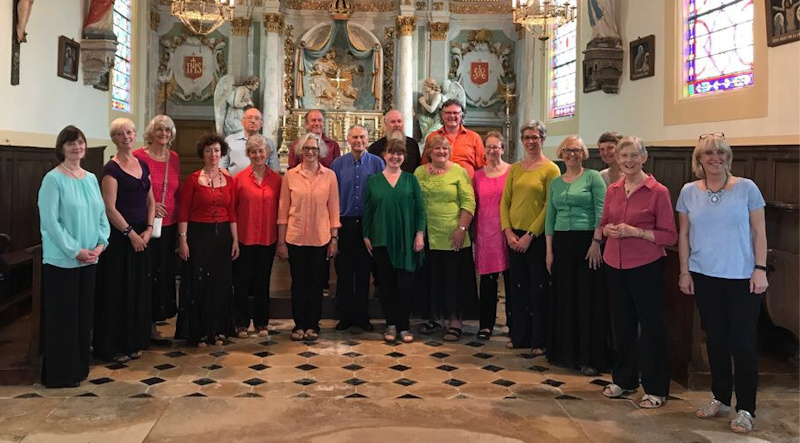 Opus XVI Chamber Choir was founded in September 1979 by Colin Nicholls, and gave its first concert on St Cecilia's Day in November of that year. It takes its name from the fact that there were originally sixteen members, one of whom, Nicola Dobson (now Yarlett), still sings in the choir.
Repertoire
The repertoire is wide-ranging and may be accompanied or a capella. Past concerts have included works by Franc Martin, Janacek, Kodaly, Nystedt and Donald Swann as well as Bach, Handel, Scarlatti, Mendelssohn, Britten and Vaughan Williams and have entailed singing in Latin, German, French and occasionally old Czech, Norwegian or Zulu. The choir has given first performances of several works by the composer Gordon Carr.
Concerts
We sing at least three concerts a year. Two of them feature music from the classical choral repertoire, while the third is our light-hearted summer supper concert with a theme such as "the wild west", "heavenly bodies" or "a night on the ocean wave". This concert is very popular with families, and the audience sits at candle-lit tables, with wine and soft drinks served, and a buffet meal during the interval.
The choir has performed with other choirs in the past. While the Musical Director was also conductor of the Hampstead Chamber Choir, Opus XVI did several joint concerts, notably the Franck Martin Mass for Two Unaccompanied Choirs, Tallis Lamentations and Handel Israel in Egypt.
Venues
Over the years, Opus XVI has given concerts in a number of local churches and church halls in West Dulwich, Streatham, Norbury and Herne Hill. We have no permanent base, but choose the venue according to the requirements of the programme, whether there is space for instrumentalists, quality of the organ, availability on the preferred dates, etc. More recently we have had weekends away, singing at Fontenai sur Orne in Normandy and Edale in the Peak District.
The Future
George Woodcock, the choir's fifth Musical Director, retired in the summer of 2018, having held the post since 1987. For the 2018-19 season we invited three guest conductors, Ruth Holton, Matthew O'Keefe and James Dixon, to direct the choir for one term and one concert each. James was subsequently offered and accepted the post of Musical Director.